Seonnongjehyang(Ceremonial Rites)
Welcome to Dongdaemun-gu
Festivals/Performances
Seonnongjehyang
(Ceremonial Rites)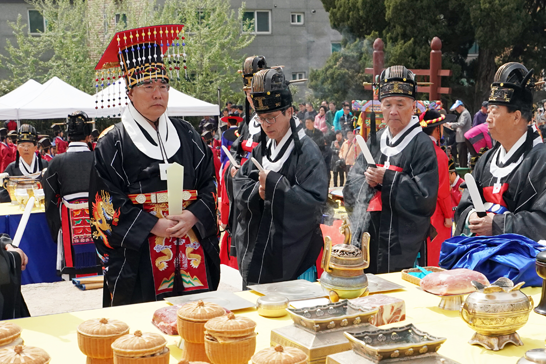 Origin of Seonnongdaeje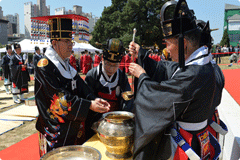 The origin of Seonnongdaeje dates back to the Silla Period. In the first month of the 2nd year of King Seongjong's reign (983) during the Goryeo Dynasty, the king performed Gigokje on Wongudan and then another ritual to Sinnong at Seonnongdan before cultivating Hujik and plowing a piece of land himself. Seonnongdaeje and Chingyeong continued to be held afterward in, for example, May of the 4th year (Yunghee) of Sunjong's reign (1910), the last emperor of Joseon Dynasty, but was abolished during the Japanese occupation period. In 1979, however, a group of people in Jegi-dong with good intentions formed Seonnongdan Amity Meeting and began holding rituals once a year to commemorate the will of our ancestors. Starting in 1992, the rituals have been held in Dongdaemun-gu and grew into events hosted by Dongdaemun Culture Center and Seonnongdan Preservation Society and sponsored by the Seoul Metropolitan Government and the Ministry of Agriculture, Food & Rural Affairs.
The Origin of Seolleongtang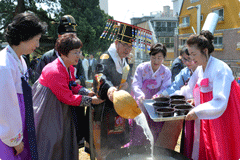 Once Seonnongje was done, the king as well as high government officials, and even regular citizens plowed a field together, and the king bestowed meals made of cow bone soup and drinks for the citizens, and this meal, a gukbap, was initially called Seonnongdan as it was given from an altar of the same name. Over time, the name was changed to Seonnongtang and finally to Seollongtang (Seolleongtang).