Buddhist Painting of Yeonhwasa Temple(Guardian Deities)
Welcome to Dongdaemun-gu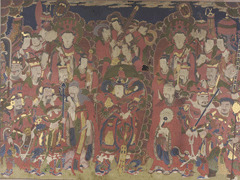 Buddhist Painting of Yeonhwasa Temple (Guardian Deities)
Seoul Tangible Cultural Heritage No. 345
It is a Sinjungdo (Painting of Guardian Deities) constituted of the group of Kārttikeya and their families led by Indra and Brahma, showing off the style of Jeseok beomcheon cheonnyongdo (Painting of Guardian Deities).
Indra and Brahma arranged in symmetry at the top of the painting have round-shaped mandorlas on their heads, rectangular mandorla on the body and wear jewel-decorated crowns while holding up flower sprigs with two hands. At the bottom, a group of the Eight Supernatural Guardians of the Buddha-dharma with mandorlas over their heads and bodies and armed with swords is situated with Kārttikeya at the center, and near jungdan and Indra and Brahma, Heavenly Gods such as Deities of the Sun and Moon (Irwoldaesin) and a group of priestlings and heavenly maidens are seen holding up to serve sangae (parasol for Buddha) or playing instruments. The use of red, green and blue stabilizes the overall look of the painting while the utilization of the gilt and barium methods for the wrinkles of clothing shows the painting style and trend of the mid-19th century.
Creation of this painting was led by Hanbong Eungjak as the chief court painter with the assistance of 12 Buddhist painters, Deokwol Eungnyun, Daeeun Donhui, Gyeeun Bongbeop, Bosan Bokju, Boam Geungbeop, Geumun Jeonggi, Hangok Donbeop, Hanmyeong Hansu, Cheongam Unjo, Jaegyeom, Dusam and Chango, in 1901, the 5th year of Emperor Gwangmu's reign. Among them, Bongbeop, Geungbeop, Donbeop, Dusam and Chango are Buddhist painters to be studied in depth for their exchanges with Gyeongseondang Eungseok, a renowned Buddhist painter in the Gyeonggi region during the 19th to 20th century through his works including Heungguksa Temple in Namyangju. The painting features neat composition, shapes, lines, colors and, especially, descriptive details, showing off the style and trend of Seoul Buddhist paintings after the mid-19th century.
Information
Designation No.

Seoul Tangible Cultural Heritage No. 345

Date designated

March 7th, 2013

Management body

Yeonhwasa Temple

Address

56, Kyungheedae-ro 3-gil (Hoegi-dong), Dongdaemun-gu, Seoul