Buddhist Painting of Yeonhwasa Temple (Seven Stars Buddhas)
Welcome to Dongdaemun-gu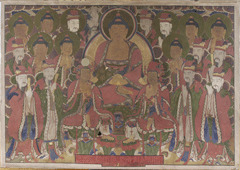 Buddhist Painting of Yeonhwasa Temple (Seven Stars Buddhas)
Seoul Tangible Cultural Heritage No. 343
It is a type of Chilseongdo (Painting of Seven Stars Buddhas) with a relatively simple composition featuring Tejaprabha Buddha holding up a geumnyun (golden wheel) with two hands folded, Surya Prabha, Candra Prabha, Seven Stars Buddhas, Seven Original Kings of Stars, Canopus and Three Saints (among Samtae Yukseong).
Sitting in a Tathagata posture (gyeolgabujwa) on a lifted lotus pedestal, Tejaprabha Buddha wears a robe that covers both shoulders and supporting Bodhisattva on its left and right are seated in a half lotus position (bangajwa) while putting their hands together towards the bonjonbul. Their heads are decorated with a red and white circle, respectively, that symbolizes the sun and the moon. Tejaprabha Buddha arranged in symmetry on the left and right of the main Buddha (bonjonbul) have their bodies turned towards it with their hands put together while the Seven Original Kings of Stars either hold hols or have their hands together and stand towards the direction of the main Buddha.
Monk artist Hangok Donbeop, who was active in the Gyeonggi region during the 19th and 20th centuries, led as the chief court painter and Hanmyeong Hwanjo, Dusam, Taeho and Changho among many others participated to create the painting in 1901 (the 5th year of Emperor Gwangmu's reign of the Korean Empire). This Chilseongdo was painted in 1901 at the same time as Hanging Painting of Amitabha Buddha, Jijangsiwangdo (Painting of Ksitigarbha Bodhisattva and Ten Underworld Kings), Sinjungdo (Painting of Guardian Deities) and Cheonsucheonan gwaneum bosaldo (Painting of Sahasrabhuja Avalokitesvara), all of which were sealed inside Yeonhwasa Temple. It retains significant value as an academic resource as it reveals the style of painting not only practiced by painting monks from the same sect of the time but also in the Gyeonggi region during the 19th and 20th centuries.
Information
Designation No.

Seoul Tangible Cultural Heritage No. 343

Date designated

March 7th, 2013

Management body

Yeonhwasa Temple

Address

56, Kyungheedae-ro 3-gil (Hoegi-dong), Dongdaemun-gu, Seoul