Seonnongdan
Welcome to Dongdaemun-gu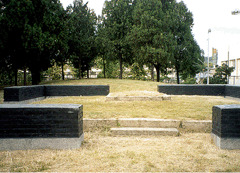 Seonnongdan
Historical Relic No. 436
Seonnongdan, Historical Relic No. 436, is a shrine devoted to holding offerings to Jesin, the god of agriculture, and Hujik, the god of grains, in wishing for the year's good harvest. The total area is 523 pyoeng, 4m times 4m.
Once the specific date of that year's ritual was decided by Yejo, the king would prepare himself for three days before the date of ritual and would perform it at the daybreak on the given date, amid his senior statesmen and subjects watching. Once the ritual ended and the sun arose, the king held a demonstration of tilling the land with a Korean plow, an activity known as Chingyeongrye. It was an elaborate ritual involving the king performing an actual act of agriculture designed to enlighten people of the importance of agriculture.
Once all the associated activities were done, the king would order that a cow be killed and cooked and shared among all his subjects, including the aristocratic statesmen and the common, who had participated in the day's event. The traditional food shared on this occasion was originally called 'Seonnongtang', which is now known as 'Seolleongtang', a hugely popular soup in Korea. After Japan annexed Korea in 1910, the Seonnong Jehyang ritual and Chingyeongrye came to be forgotten. The Japanese colonial government attempted at completely eliminating the cherished cultural assets in and around this area by creating a park called 'Cheongnyangdae'. The residents of the surrounding neighborhoods, however, came to form the Seonnongdan Friends' Society in the late 1970s and began to re-perform the ritual long practiced before Korea was colonized. The Seonnong Jehyang is now held on April 20 every year under the sponsorship of the Ministry of Agriculture, the Dongdaemun Gu Office, and the Dongdaemun Culture Center.