Buddhist Painting of Yeonhwasa Temple(Ksitigarbha Bodhisattva and Ten Underworld Kings)
Welcome to Dongdaemun-gu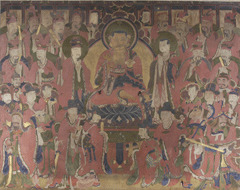 Buddhist Painting of Yeonhwasa Temple (Ksitigarbha Bodhisattva and Ten Underworld Kings)
Seoul Tangible Cultural Heritage No. 346
This is a painting of Ksitigarbha Bodhisattva Triad (Ksitigarbha Bodhisattva, Innoxious King of Ghosts, and Daoming). The Ten Underworld Kings are arranged to the left and right, and the Messengers and Judges are located under the Triad.
Though a date is no longer shown on the painting, it is estimated to have been painted during the same time as Hanging Painting of Amitabha Buddha, Sinjungdo (Painting of Guardian Deities) and Cheonsugwaneumdo (Painting of Sahasrabhuja Avalokitesvara) in 1901. The main Ksitigarbha Bodhisattva wears a transparent but black hood, holds a precious jewel (boju) and a staff (seokjang) in its right and left hands, and is seated in a Tathagata posture on lotus pedestal over Sumidan Altar. On its left and right, Innoxious King of Ghosts and Daoming put their hands together and stand facing the Ksitigarbha Bodhisattva. On both sides of a huge mandorla, siwangs who either hold hols or stroke their beards also stand in the direction of bonjon and behind them stand 2 sets of 8 folding screens while the mandorla is fancily decorated with gilt. The gold-plating technique of mandorlas was a popular method shown by Buddhist paintings in Seoul and the Gyeonggi region during the late 19th century, and is also seen in early 20th century Buddhist paintings in many temples including Hwagyesa, Bongeunsa and Suguksa. The element of interest in Buddhist paintings' expression of people is the shading used to express people, including Ox-head and Horse-head Guardians, and such shading is also a characteristic of Seoul and Gyeonggi Buddhist drawings after the 19th century.
The Jijangsiwangdo of Yeonhwasa Temple was drafted by Gyeongseon Eungseok, a famous Buddhist painter of the time in Gyeonggi region during the 19th century, in 1867 and produced based on the Jijangsiwangdo in Myoseungjeon Hall of Bomunsa Temple, Seoul (Seoul Tangible Cultural Heritage No. 100). It is also similar to those in Cheongnyongsa Temple, Seoul (1868, Seoul Tangible Cultural Heritage No. 201) and Anjeongsa Temple (19th century). As a work of art that faithfully succeeds the style of jijangsiwangdo in Seoul and the Gyeonggi region during the late 19th century, it reflects the style of the time in coloring and expression of people.
Information
Designation No.

Seoul Tangible Cultural Heritage No. 346

Date designated

March 7th, 2013

Management body

Yeonhwasa Temple

Address

56, Kyungheedae-ro 3-gil (Hoegi-dong), Dongdaemun-gu, Seoul