Baebongsan Neighborhood Park
Welcome to Dongdaemun-gu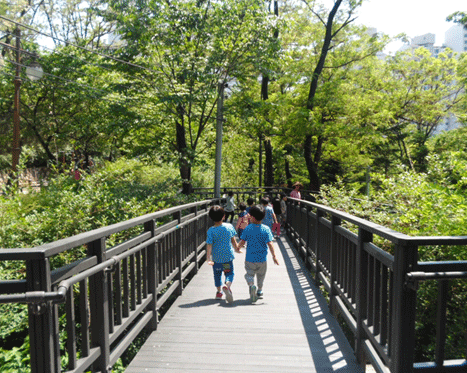 Baebongsan Mountain is 106m-high and located in Jeonnong-dong and Hwigyeong-dong, Dongdaemun-gu. At the site where concrete walls of an adventist hospital within Baebongsan Park were torn down, the gu (district) office created an eco-park and nature learning site featuring wild flower garden and eco-pond and has been running Forest Trip Program inside Baebongsan Neighborhood Park.
orest Trip Program in Baebongsan Neighborhood Park
Period

2012. 4 - 11. 30

Opening Hours

Every Tuesday, Thursday, Saturday and Sunday (10 AM – 12 AM)

Location

Nature Learning Center in Baebongsan Neighborhood Park

For

Any citizen

How to participate

Application via Seoul public service reservation program (http://yeyak.seoul.go.kr) or via phone

Details

Observation of animals and plants and ecological experience learning inside Baebongsan Nature Learning Center

Meet at

Baebongsan Meeting Plaza 1

Phone

Park & Landscape Division (☎ 2127 – 4779)
Life Gym Courses at Jungnangcheon Athletic Parks for Healthier Dongdaemun-gu
1.5km (round-trip 3km), takes 2 hours
Life Gym Courses at Jungnangcheon Athletic Parks for Healthier Dongdaemun-gu - No., Major Stop Points, Detailed Exploration Description 순으로 정보를 제공하고 있습니다.

| No. | Major Stop Points | Detailed Exploration Description |
| --- | --- | --- |
| 1 | Meeting at the Square | Greeting, brief explanation on the program schedule, team formation, aquatic insect observation |
| 2 | Forests of Patbae tree, Akkasi tree, Ttaejuk tree | Explanation of why there are so many Patbae trees,Ttaejuk trees, and Akkasi trees on Baebongsan and other stories relating to the subject of trees |
| 3 | Ecological Pond | What live inside the pond? |
| 4 | Cherry Tree Forest | Explanation of common mistakes regarding cherry trees and the story of cherry trees in history, especially as seen in Palmandaejanggyeong. |
| 5 | Wild Flower Complex | Conversations on herbs and wildflowers, including Sangsahwa, Pinamul, and San-guk. |
| 6 | Acupressure | Protecting one's own health |
| 7 | Azalea Forest | Why azalea? |
| 8 | History of Baebongsan | History and cultural anecdotes of Baebongsan |
| 9 | Recreation ground | Closing |
Plants Living on Baebongsan
Geumnanghwa, Boksucho, Beombuchae, Chamnari, Gujeolcho, Norang-Kkotchangpo, Cheongsolmo, Metsae
Stories about Baebongsan
The foot of Baebongsan is known to have been home to the original sites of Yeong-woo-won and Hwigyeong-won. Yeong-woo-won is the gravesite of Prince Sado, the father of King Jeongjo in the Joseon Dynasty. Hwigyeong-won is the gravesite of Concubine Su Park, a concubine of King Jeongjo and the mother of his son, who went on to become King Sunjo. The name 'Baebongsan' itself reflects this history: 'Baebong' in Korean means 'bowing down' or 'ancestral worshipping', and the mountain came to be named so as King Jeongjo bowed down to the mountain where his father's grave is located every day in an effort to commemorate his father. Another legend has it that, because the mountain is a host to the graves of various members of the royal family, including Yeong-woo-won and Hwigyeong-won, many people kept their heads bowed whenever they passed by it. The physical shape of the mountain itself reminds of a person bowing down toward the nation's capital.
Direction
Subway

Exit 2 of Hoegi Station (Line 1) -> transfer to bus 2211 -> get off at Dongil Sweet Ville

Bus

145, 1218, 2211 -> get off at Dongil Sweet Ville

Direction to Baebongsan 1st Meeting Place

Dongil Sweet Ville -> Yeonyukgyo Bridge -> Osogil (150 m) -> Baebongsan 1st Meeting Place