Jungnangcheon Athletic Parks 1~5
Welcome to Dongdaemun-gu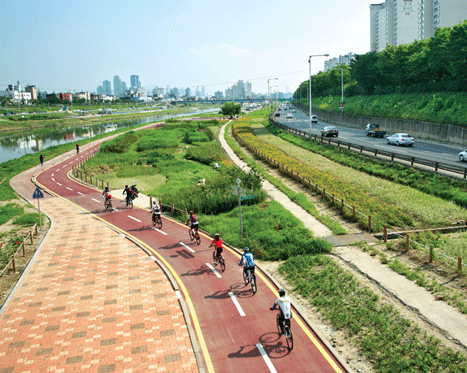 Jungnangcheon is a stream that is 20km-long and a maximum 150m-wide, spanning over a total basin area of 288 ㎢. It runs south by Imun-dong, Dongdaemun-gu and past Gunjagyo and Jangangyo Bridges before joining Cheonggyecheon, bending towards the west and flowing into Hangang River. In the old days, it was known as Seowoncheon in Dobong-dong area and Junggwanggae by people in Myeonmok-dong. Because it flows in between fields, it was also called saetgae or saetgang, and, for other instances, Hancheon or Hannae as it flows into a river. Ever since Jungnyanggyo was written with a Chinese letter '浪', meaning waves in the map of Gyeongseongbu published by Japanese in 1911, various literature marked the stream as Jungnangcheon (中浪川), the presently known name.
Jungnangcheon Athletic Parks 1 – 5
Athletic Park 1

In front of Jangpyeong Neighborhood Park in Jangan-dong (100m to the north of Gunjagyo Bridge)

Athletic Park 2

In front of Samsung Raemian Apt. Complex in Jangan-dong (between Jangpyeonggyo and Jangangyo Bridges)

Athletic Park 3

In front of the Police Forensic Research Institute in Hwigyeong-dong (between Jangangyo and Jungnangyo Bridges)

Athletic Park 4

100m to the north of Jungnanggyo Bridge

Athletic Park 5

In front of Daewoo Apt. Complex in Imun-dong near Yihwagyo Bridge

Main facilities

Bicycle track (5.6km long), basketball court, badminton court, Jokgu court, roller-blade track, etc.
2127-4842 (Flood Control Division, Dongdaemun-gu)