Seoul Folk Flea Market
Welcome to Dongdaemun-gu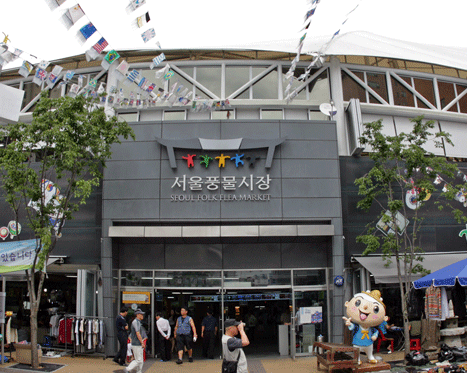 Background of the Seoul Folk Flea Market
Previously, Hwanghak-dong had a flea market dealing in a variety of traditional furniture, used electronics and clothing, among others. As the market became popular among citizens, the number of street shops and vendors increased. At the beginning of 2004, 'the Dongdaemun Folk Flea Market' was set up in what was previously the Dongdaemun Stadium, a sports complex, because the Cheonggyecheon Stream Restoration Project included 'the Hwanghakdong Dokkaebi Market' area.
Keeping with the progress of the Dongdaemun History and Culture Park Project, the relocation of 'the Dongdaemun Folk Flea Market' to another location was discussed, and the decision was made to create 'the Seoul Folk Flea Market' in Sinseol-dong in the location that previously housed Sungin Girls' Middle School with a total of 894 street vendors of the Dongdaemun Folk Flea Market. (The new folk flea market was opened on April 26, 2008 with an aim to grow into one of the city's global tourist destinations frequented not only by locals but foreign tourists.)
Major Aspects of the Seoul Folk Flea Market
The Seoul Folk Flea Market is composed of seven buildings identified with the 7 colors of a rainbow. The flea market sells a whole variety of goods including foods, clothing, luggage, footwear, electronics, sporting goods, antiques, ceramics, and other daily supplies. The 2-story red colored building acts as a food court. The first floor of the green-colored building deals in antiques and handicrafts that refresh visitors' memories. The other buildings sell a whole range of goods from clothing to fashion accessories, sporting goods and various household items.
Business Hours and Holidays
Business Hours

10:00-19:00 (10:00-22:00 for the food court)

Holidays

2nd and 4th Tuesdays (twice a month)
Major Programs
The Citizen Flea Market: Any resident can apply for participation and sell their own goods they no longer use at home to help make an enjoyable and valuable experience
The Weekend Merchant Flea Market: On weekends, various everyday items of the past are available just like what used to be found in Hwanghak-dong Flea Market many years ago.
The Foreigner Flea Market: Foreign nationals can participate in the flea market to share their unique treasures and culture with others.
Cultural Performances: The market features various free performances including Korean pop songs, classical music, gugak (traditional Korean music), madang-geuk (traditional Korean outdoor play) and musicals.
The Market Tour: Licensed Korean culture & tourism guides offer visitors with detailed explanations about traditional Korean furniture and household items hidden throughout the flea market.
Inquiries
Market Management Office

T.02-2232-3367 F.02-2232-3360

Merchant Association Office

T.02-2238-2600

Website

http://www.pungmul.or.kr/

Go to website
Direction
Subway

Exit 6 of Sinseol-dong Station (Line 1)
100 m from Exits 9 & 10 of Sinseol-dong Station (Line 2)

bus

Hajeong-ro

303, 370, 721, 2112, 2219, 2221, 2230, 9403

Cheonggyecheon-ro

2230, 300, 2013

Red bus

9403, 9301

Parking Lot

Public parking lot at the main gate of Seoul Folk Flea Market (102 parking spaces)
Fee: KRW 300/10 mins

1.5 hour free parking for Seoul Folk Flea Market visitors