Seoul yangnyeongsi
Welcome to Dongdaemun-gu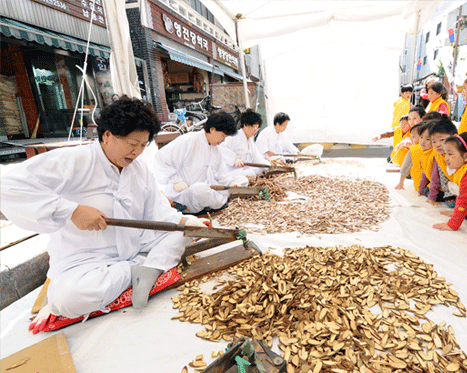 Korea's largest medicinal herb distribution market
Seoul Yangnyeongsi is the world's largest medicinal herb market established over an 80,000 pyeong area of land in Jegi-dong and Yongdu-dong of Dongdaemun-gu where more than 1,000 Korean medicine-related stores reside, including Korean medicine clinics, pharmacies, Korean medicine pharmacies, herbal medicine shops, wholesalers and retailers involved in import and export of medicinal herbs.
It is not only responsible for about 70% of all medicinal herbs dealt in Korea but also visited by many foreigners as global interests in Oriental medicine grow.
From sanghwang, chaga and ganoderma mushrooms to gugija, omija, milkvetch and wilfordi roots, people can easily find desired medicinal herbs, delivered from all over the country, at Seoul Yangnyeongsi, even those that are difficult to obtain. Since all of the industries related to Korean medicine and medicinal herbs are gathered here, shopping, medical treatment services and health counseling are also possible.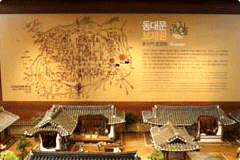 Origin of Seoul Yangnyeongsi – Bojewon
To the west of Seonnongdan, about 1 km outside of Heunginmun (today's Anam-dong Rotary), "Bojewon" existed. "Won" is a facility that was set up on major roads to offer lodging and food to those traveling for government tasks during the Joseon Dynasty, and there were several won's in or near Seoul, including Hongjewon outside of Seodaemun, Itaewon outside of Namdaemun and Jeongwanwon outside of Gwanghuimun Gate. Bojewon was established outside of Dongdaemun on the path going from Hanseong, the capital, towards the northeast. In addition to the provision of accommodations and meals for travelers, it also operated a Korean medicine clinic, euijwa, gansahoe, etc. to perform medical checkups and exams for the impoverished during the reign of King Taejong to Seongjong.
Though Bojewon's primary task was to treat patients within the capital, it often took in those who had no place to go, treat those who fell sick on the road and, even buried the dead, fulfilling its duty as a relief agency. According to the Annals of Sejong, there are records that "Bojewon and Hongjewon were built with two rooms in the shape of a Chinese character "土" to be used as relief sites where the hungry may come and eat". For centuries, there were many merchants near Bojewon outside of Heunginmun who dug up medicinal herbs themselves in Gyeonggi-do and Gangwon-do to sell them near Seoul. This is because Bojewon was set up on the path to Hanyang, and many kinds of medicinal herbs were easily obtained at Bojewon. Thus, the growth of Seoul Yangnyeongsi in Yongdu-dong and Jegi-dong area stems from this historic tradition.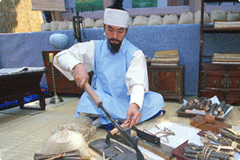 Seoul Yangnyeongsi Herb Medicine Festival
Herb Medicine Festival is held every year in Seoul Yangnyeongsi Special Herb Medicine Industry Zone. The festival, which is hosted by Seoul Yangnyeongsi Association and co-sponsored by the city of Seoul and Dongdaemun-gu, contributes to spread the excellence of Korean medicine, attract foreign tourists and vitalize the economy of the Special Herb Medicine Industry Zone.
Event location

Arch Street No. 1 in Seoul Yangnyeongsi Special Herb Medicine Industry Zone

Event details

Event details - Cultural events, Participating events, Herbal treatment, Additional events정보를 제공하고 있습니다.

| | |
| --- | --- |
| Cultural events | Bojewon Jehyang, recreation of Bojewon, various culture performances |
| Participating events | Herb slicing contest, medicine pack wrapping experience, herbal-scented bag making, herbal massage experience and demonstration, herbal tea tasting, herbal rice cake throwing and tasting experience, elixir tasting, herbal digestive medicine making and presentation, and other citizen-participating events |
| Herbal treatment | Free herbal treatment and prescription event (for foreign workers and low-income families) |
| Additional events | Presentation of scholarships, awards for men of merit, awards for filial conduct |
Nearby Attractions
When you visit Seoul Yangnyeongsi, visit Herb Medicine Museum and go on a trip of herbal medical treatment with a museum guide (docent). The museum has an exhibition hall, herb experience hall, seminar room and storage, exhibiting 409 pieces of relics and 500 kinds of medicinal herbs.
Location

B2 floor, Donguibogam Tower, Yongdu-dong, Dongdaemun-gu, Seoul

Size

2,335.37 ㎡ (706.5 pyeong)

Opened on

2006. 09. 13

Address

10, Yangnyeongjungang-ro (Jegi-dong), Dongdaemun-gu, Seoul,
Direction
Subway

Exit 2 of Jegi Station (Line 1)

bus

Blue bus

105, 147, 201, 202, 241, 260, 261, 262, 270, 271, 272, 420, 421, 720, N13, N26 Get off at Jegi-dong station, Seoul Yangnyeongsi Market

Green bus

2221, 2233 Get off at Jegi-dong station, Seoul Yangnyeongsi Market