Cheonggyecheon / jungangcheon
Welcome to Dongdaemun-gu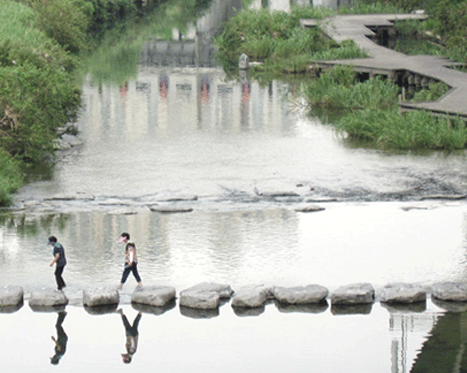 Cheonggyecheon
Cheonggyecheon, the second tributary of the Han River, originates in Inwangsan and flows around the central part of Seoul before it joins Jungnangcheon, the first tributary of the great river, in the border area between Sageun-dong, Songjeong-dong, and Seongsu-dong. 13.7 kilometers long, it ultimately flows into the Han River.
The area around Cheonggyecheon used to be hidden under a network of overpasses for the last four decades, until the Cheonggyecheon Restoration Project gave it a second birth as the central center flowing through Seoul on October 1, 2005. The newly restored Cheonggyecheon now starts in front of the Dong-a Newspaper Building near Gwanghwamun on Sejongno in Jongno-gu, Seoul, and joins the Han River near Sindap Steel Bridge in Seongdong-gu.
The upstream part of Cheonggyecheon provides a fabulous sight, complete with glamorously illuminated bridges, a ceramic mural titled 'Jeongjo Daewang Neung-hang Banchado', 'The Wall of Culture' decorated by five modern Korean artists, and so forth. The downstream part, on the other hand, is much quieter and provides an ideal environment for thinking. The downstream part of Cheonggyecheon is home to the resurrected natural environment: its marshy areas provide habitats for a variety of species of fish, amphibians, birds, and such aquatic plants as Gaetbeodeul, Maejagi, and Kkotchangpo. Sukeuryeong and eulalia decorate the banks of Cheonggyecheon in their lushness. The Chungju Apple Tree Road, complete with 116 apple trees donated by Chungju City, extends for 300 meters or so between Gosanja Bridge and Sindap Steel Bridge, telling the passersby changes in seasons. You will feel naturally inspired and impressed by the strong will to life evident in these natural creatures decorating the newly born area of Cheonggyecheon.
Cheonggyecheon Road Tour
The Cheonggyecheon tour course, accompanied by a docent of cultural assets, takes two to three hours in total. You must make a reservation for a spot in the Tour Course by Walking, led by the Municipal Facility Management Corps of Seoul, in advance in order to participate in this program. Course I provides an opportunity to take a tour around the upstream part of Cheonggyecheon, while Course II takes you through the mid- and downstream parts.
Cheonggyecheon Administration Center, Seoul Municipal Facility Management Corps (02-2290-6849)
Transportation
Subway

If you want to walk from Gosanja Bridge, exit through Gate No. 3 at Yongdu Station on Subway Line 2

Buses

Blue (Main Route) Buses: Nos. 130, 303, 300, 370, 145, 721
Green (Local Line) Buses: Nos. 1125, 1227, 2015, 2112
Red (Regional Line) Buses: Nos. 9403, 9301
Get off in front of the Dongdaemun-gu Office
Blue (Main Route) Buses: Nos. 300, 303, 370, 721
Green (Local Line) Buses: No. 0013
Red (Regional Line) Buses: No. 9403
Get off in front of the Dongdaemun-gu Office
Athletic and recreational public spaces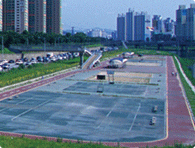 Jungnangcheon, the first tributary of the Han River, originates from a valley in the north of Suraksan, located in San-gok-dong, Yangju, Gyeonggi-do. It passes through the middle-ground between-dobongsan (716m) and Suraksan (637m) to combine with Uicheon, originating from Bukhansan (836m). Then it combines with Cheonggyecheon in the downstream and finally joins the mainstream of the Han River. It is 36.5km in length and 8.61km wide on average, and accompanies a total of 13 tributaries, including Cheonggyecheon and Uicheon. Jungnangcheon, which was frequently flooded during seasons of heavy rainfalls, finally came to have rainwater pumps. The level-upped riversides of Jungnangcheon provides athletic and recreational public spaces where you can enjoy various sports and other activities.
Athletic Parks 1 ~ 5 have also been created on the level-upped riversides of Jungnangcheon where people can play sports, take a long walk, or simply take a rest using various public facilities. The parks also provide various gym classes in which you can enjoy your favorite sports with other people under systematic instructions of the instructor. The parks also offer a 5.6km-long bicycle track and the famous flower garden filled with jaunyeong(Astragalus sinicus), yuchae(rape flowers), short grasses, and so forth. Jungnangcheon Athletic Parks are ideal places where you can sweat playing fun sports and take a rest in the beautiful natural environment.
Athletic Park 1

in front of Jangpyeong neighborhood park in Jangan-dong

Athletic Park 2

in front of Samsung Raemian Apt. Complex in Jangan-dong

Athletic Park 3

in front of the Police Forensic Research Institute in Hwigyeong-dong

Athletic Park 4

near the central railway in Hwigyeong-dong

Athletic Park 5

in front of Daewoo Apt. Complex in Imun-dong (upstream area near Ihwa bridge)
Major Surrounding Facilities
Main facilities include: a bicycle track (5.6km long), a basketball court, a badminton court, a Jokgu court, a roller-blade track, etc.
Discovering the origin of Jungnangcheon
Jungnangcheon used to be called 'Seowoncheon' in the area around-dobong-dong in the past. It was also familiarly called 'the Saetgae' or 'the Saetgang' as it flows between plains. It was also called Hancheon or Hannae because it eventually flows into the main river. Residents of Myeonmokdong used to call it 'Junggwanggae'. The current name of 'Jungnangcheon' comes from the fact that the map of the capital region issued by the imperial Japanese government in 1911 indicated 'Jungryang Bridge' as 'Jungrang Bridge', a precedent name that later works of relevant literature came to adopt.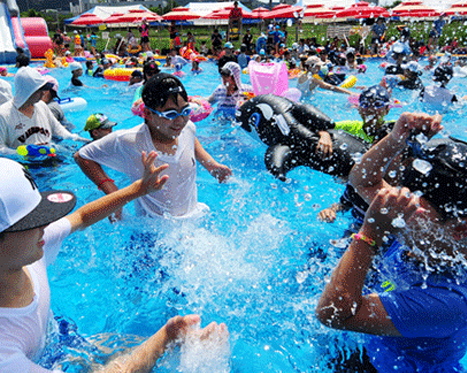 Jungnangcheon Stream, Boasting Harmony between Nature and Sports
Cheonggyecheon Stream, a 13.7-kilometer-long secondary tributary of the Hangang River, begins from Inwangsan Mountain, flows east toward central Seoul, intersects with Jungnangcheon, a primary tributary of the Hangang River, at the border of Sageun-dong, Songjeong-dong and Seongsu-dong of Seongdong-gu, and together runs into the Hangang River.
Cheonggyecheon was covered by an overpass for 40 years until it was restored as an eco-friendly stream on October 1, 2005 according to the Seoul Metropolitan Government's Cheonggyecheon Stream Restoration Project. The restored Cheonggyecheon starts in front of the Dong-A Ilbo Building in Gwanghwamun, Sejong-ro, Jongno-gu and meets up with the Hangang River near Sindap Railway Bridge in Seongdong-gu.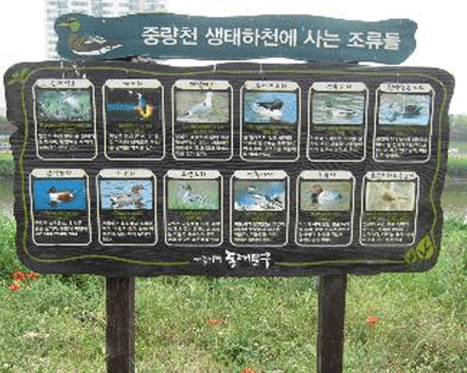 Jungnangcheon, an Eco Learning Center with Ample Green Space
The riverside of Jungnangcheon has a lot more to offer than sports space. First and foremost, it is home to a wide variety of birds, insects and plants. The Eco Learning Center run by Dongdaemun-gu features a variety of ecological programs such as ecological education field trips and ecological experience classes customized for participating residents. Resident engagement programs such as wheat harvesting, wheat berry distribution, and cotton farming have expanded.
Jungnangcheon has been reborn as an eco-friendly stream being actively embraced by an increasing number of residents. Naturally, the waterside of the stream is also dotted with gardens of various seasonal flowers including canola, sunflower and cosmos. If you long for a stream with a range of vegetation attracting beneficial insects, come to Jungnangcheon and relish its natural beauty alongside a residential area.
Direction
Subway

To walk from Gosanjagyo Bridge, go to Exit 3 of Yongdu Station (Line 2)

bus

Blue bus

130, 303, 300, 370, 145, 721

Green bus

1125, 1227, 2015, 2112

Red bus

9403, 9301